troposphere
I've had a pretty fun 4th of July weekend; I hope everybody had good celebrations too, including those Canadians celebrating Canada Day on the 1st.
I sang in a pretty big production for the 4th, it was a really fun experience!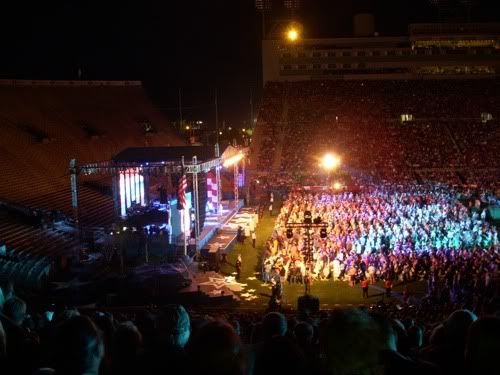 The Stadium of Fire has been held in Utah for about 30 years; basically it's a big stadium show/concert with music artists and then a massive stadium fireworks show. I was in a choir that participated in the opening and the grand finale; we sang patriotic songs. We practiced about 6 times and then had two dress rehearsals this week (including a full one Friday which took ages and ages @_@); but tomorrow everything came together nicely.
Unfortunately because it was being broadcast overseas on the American Forces Network (i.e. overseas to military; hi, I'm on TV!) I couldn't take pictures or anything while on stage. Not to mention that being a bit unprofessional. . . but I snagged some while backstage:
The stage is pretty neat: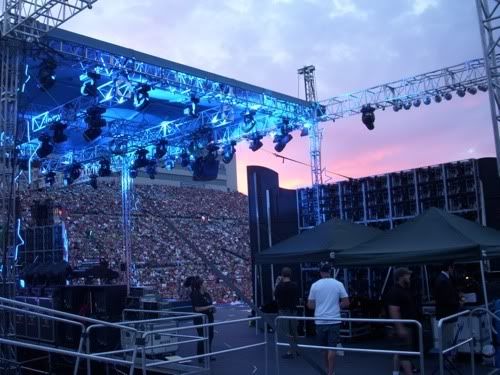 Did I mention it was a sold out show. . .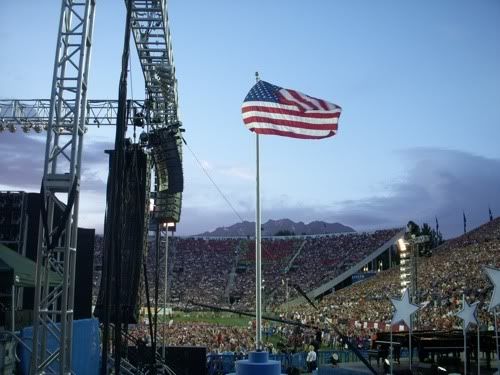 And the reason it was a sold-out show: Carrie Underwood!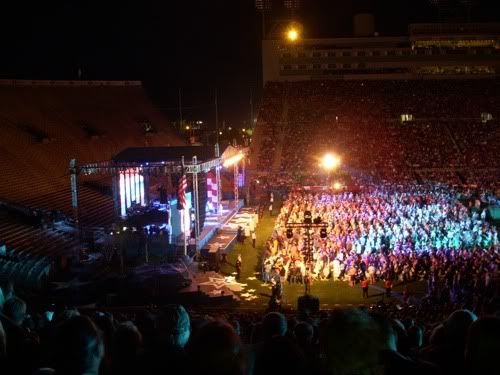 By the way, the reason the bleachers are empty behind the stage is not just because they are behind the stage but because they actually launch fireworks from the bleachers! Ahaha, did I mention the part about ash falling on us as we sang? I even got a hot bit of firework landing on my forearm; I felt the heat but wasn't burned.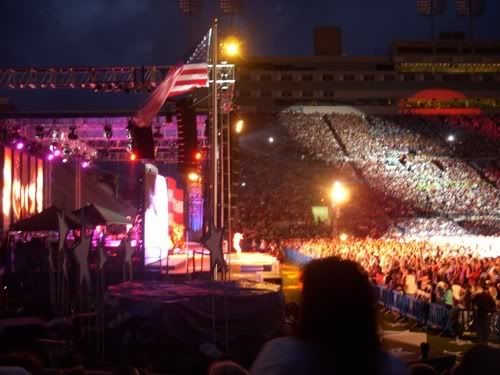 We were supposed to have reserved seats for the choir, but stadium security failed to rope them off or reserve them or anything . . . I don't know what they were expecting, but the general admission people kind of snuck up and took the chior's seats and there were just too many of them to kick them out. So I got to wander around backstage and close up front while Carrie Underwood performed, which was interesting. She's a good performer; she sings with a fun kind of abandon that's pretty neat to watch, despite the fact that I wasn't really a fan. I could be though.
More backstage: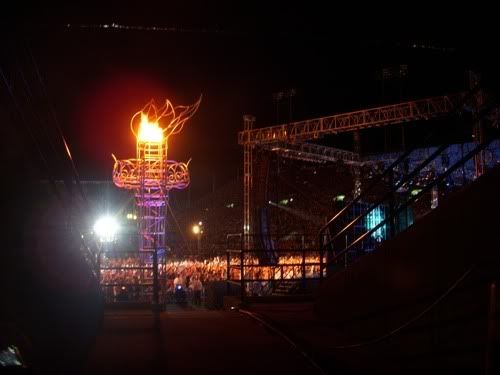 Anyway the fireworks were amazing, we were about as close as you can get to them while we waited to go onstage, and got to watch for a good 10 minutes. Still, I think the highlight of the experience was singing the miltary anthems while memebers of the military stood up to be recognized; followed by Carrie Underwood coming on stage (while the choir was on stage, yes \o/ ) and singing the national anthem. At the end of her singing the anthem a squad of F-16s did a fly-over of the stadium; it was pretty great to see them go right over my head.
Edit: Someone posted it on youtube!
The general vicinity where I was: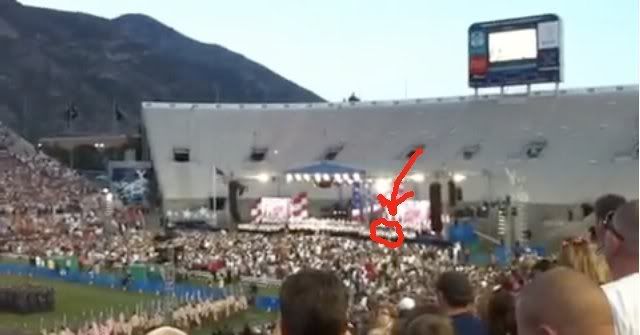 Today we had a pretty low-key day; our city doesn't do fireworks in July, they do them in June at the city carnival. One reason they don't is because the Stadium of Fire show is pretty spectacular, and it's only one city over so it would be pretty superfluous. Tomorrow our neighborhood is getting together for a pot-luck type of dinner and the people behind us usually light illegal fireworks, lol. The ones that explode in mid-air are illegal here unless it's for a big show-type performance (i.e. you need a license), but some people buy them in another state (usually Wyoming) where the laws are less restrictive and bring them across the state line. They can pay the fine if they get caught, not me, ahah. . .
However, today I wanted to try out a recipe I found
[here]
and it came out alright! The recipe I actually used can be found
[here]
, but the original idea came from the
17 and baking
blog.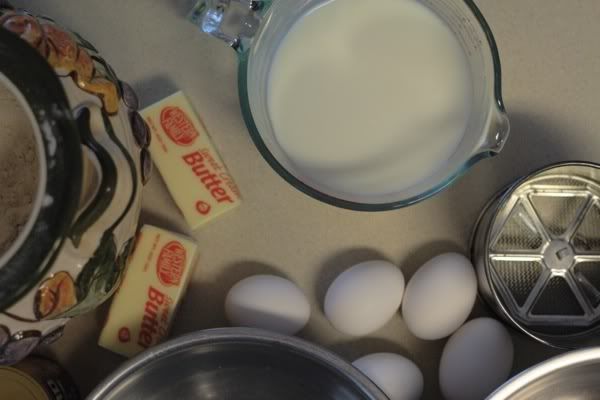 American Flag cake!
The hardest part was getting the batter right; mine came out a bit heavy.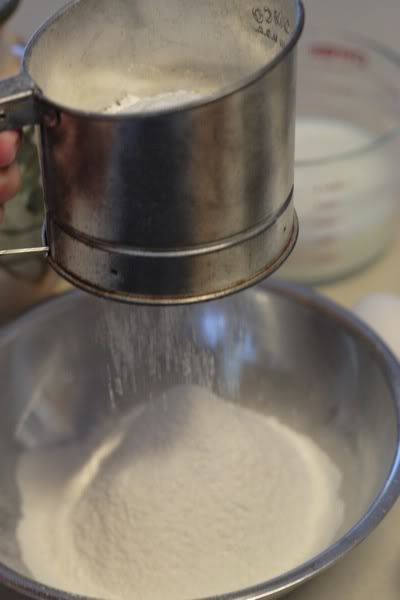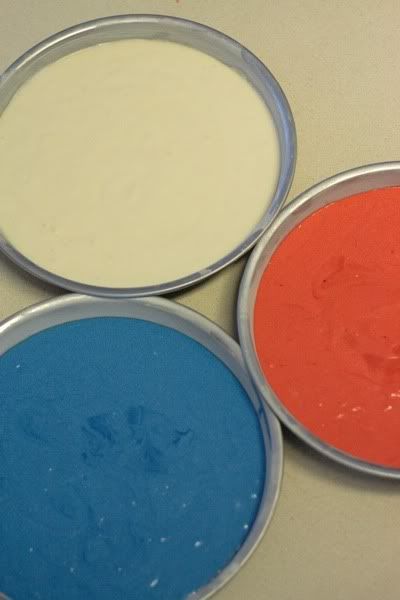 Fully assembled!
And a surprise inside!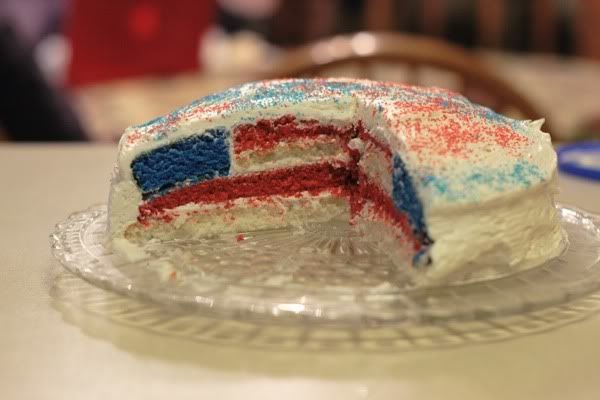 I'm actually really pleased about it. I'm not really a great baker; though I'm good at cooking baking is my weak point. But this was too neat; I had to give it a go.
I hope you are all doing well; tomorrow I am off to a hot air balloon fest and there will be photographs. /o/